By opening new avenues for market exploration,the rollout of 5G technology is set to fuel the growth of the telecom and media industry. Both sectors are currently at crossroads due to unforeseeable challenges caused by the surge in the remote-hybrid working culture, agility-driven objectives, and expansion of attack surface areas. They are caught between easing out authentication methods to improve customer services and securely building the desired resilience and agility.

While interacting with telecom and media counterparts, our cybersecurity experts have found that telecom and media companies currently grapple with the following technology and security challenges:

Simplifying technology complexity: Telecommunications and media units house a vast, diverse technology stack. They have disparate systems and siloed operations, creating several weak points that cybercriminals can leverage. In line with this, many companies now focus on untangling the backend complexities and providing fast and seamless services to deliver delightful consumer experiences.

Hassles in augmenting efficiency: Many companies in the telecom and media sectors often battle with challenges in budgeting, infrastructure outreach, and creating new business models. Looming uncertainties due to impending recession, a lower growth rate, higher inflation, and falling domestic demand are negatively impacting their technology investment decisions. In addition, the need to adopt 5G to stay competitive has further enhanced their technology costs.

Steep input costs, stranded complex data, byzantine security, and privacy requirements have made implementing new technologies arduous for most telecom and mediacompanies. In such a scenario, they should leverage modern technology and explore uncharted territories to achieve growth. A robust, secure, and streamlined infrastructure can help them navigate uncertainties more effectively and come out with flying colors.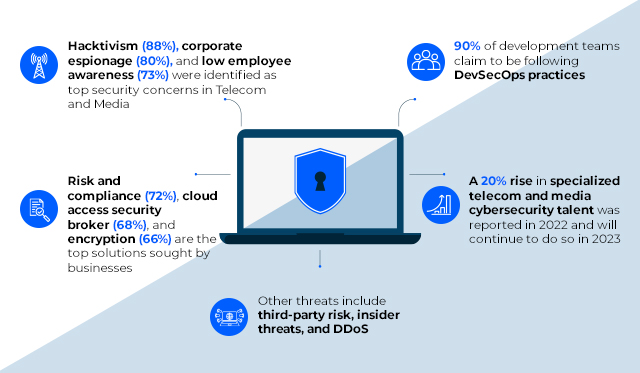 Source: Various leading research providers in tax, audit, and security

Supply chain crisis:Semiconductor shortages that are likely to persist throughout 2023, ongoing geopolitical tensions, and a fragmented vendor-supply network contributing to the supply chain woes are leaving an adverse impact on telecom and media companies.

However, not all is gloomy in telecom and media. With the expansion of the 5G network, there has been a 15-20% rise in demand for specialized technology talent in telecom and allied sectors. According to Mint, cybersecurity, cloud computing, data science, and data analytics will be some of the most sought-after jobs in 2023. Accelerated adoption of Artificial intelligence (AI) is already seeing a surge, as it helps them predict usage and behaviour patterns in equipment operations or customer interactions. This stands true, especially in the case of virtual assistants and chatbots. Cloud-derived technologies and services are seeing a spike as they streamline and automate tasks, reducing operational costs, and de-escalating cyber risks, thus boosting overall revenue. The adoption of IoT-enabled devices and platforms is also seeing a considerable spike.

With emerging technologies, telecom and media companies should brace for sophisticatedcyber attacks owing to increasing attack surfaces. Blockchain technology is touted to be a game changer, as it can seamlessly integrate into systems and networks, facilitating secure business operations, especially where third parties are involved. The rise of SASE or Secure Access Service Edge (SASE), which supports businesses' secure access needs by amalgamating network security functions (such as SWG, CASB, FWaaS, and ZTNA) with WAN capabilities (e.g., SD-WAN)is also evident in recent times. In addition, telecom and media companies can opt for other solutions like Managed XDR, Application security, OT & IoT security to safeguard their networks and data.

With the rising awareness about data privacy and security, telecom and media companies are adopting a cybersecurity-first culture. Considering the constantly evolving threat environment, they must have a robust cybersecurity strategy and carry out a continuous risk assessment, simulated threat event navigation, and stringent compliance and reporting. In a nutshell, an evolved cyber security posture is the only way telecom, and media industries can safeguard their financialand regulatory interests.