Overview
Within the last few years, Cybalt has witnessed a complete change in the identity management and cybersecurity scenario. We are significantly focusing on authenticated access to people, digital identities, and privileged accounts. The sole objective is to mitigate identity-related access risks due to numerous cyber threats and data breaches.
There is a need to manage digital identities and user access to data, systems, and resources, giving rise to identity and access management (IAM). Moreover, there is a vital requirement for identity governance to streamline access reviews, access governance, user provisioning, policy, and password management, creating a demand for identity governance and administration (IGA).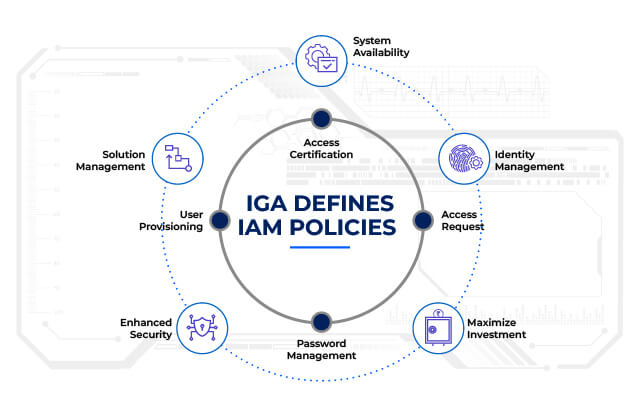 Cybalt acknowledges IAM
Cybalt has identified various programs, policies, and technologies to reduce identity-related access risks. As per Gartner, "IAM enables the right individuals to access the right resources at the right times for the right reasons." We believe that IAM is a critical security task, enabling faster response to business changes. Furthermore, it proactively anticipates identity-related access risks emerging due to dynamic business setups.
We realize the importance of IAM as part of the cybersecurity and risk management processes. Accordingly, it must be acknowledged through a cross-functional assessment of the stakeholders, including employees, IT and security teams, business leaders, clients, auditors, contractors, partners, and vendors.
IAM focuses on user provisioning and password management. We understand IAM's importance as it manages applications related to security policy enforcement, identity repositories, reporting, and monitoring. A third-party managed service, viz., Identity-as-a-Service (IDaaS), offers cloud-based identity management on a subscription basis. It provides identity management on-premises and in cloud-based systems.
IAM systems enhance business productivity. The central management functionalities tend to reduce the complexities of identity management. It also moderates and safeguards user access and credentials. These systems enable employees to be more productive irrespective of the environment, whether on-premises or cloud-based.
IGA: Cybersecurity across Platforms
IGA, on the other hand, enables us to mitigate identity-related access risks in an effective and efficient way. It is a culmination of cybersecurity solutions and policy frameworks across different business domains. It encompasses the automation process for creating, managing, and certifying user accounts, access rights, and individual user roles. IGA leverages the best possible path to mitigate identity risks.
Apart from enabling automation for creating and managing user accounts and access rights, IGA improves cybersecurity at the organizational level by reducing identity-related risks. Next, it facilitates certification processes, thereby complying with auditing requirements. It also ensures compliance with government rules and regulations as per industry standards. IGA empowers businesses to boost their operational efficiency.
IGA is integral to organizations, as it not only enhances cybersecurity and compliance but also prevents data theft and security breaches. It provides a shield to protect our reputation and financial information. In order to avoid penalties, IGA facilitates compliance processes with regulations such as HIPAA, GDPR, and PCI-DSS.
Cybalt identifies a Unique Differentiator
Although the terms IAM and IGA may seem similar, Cybalt identifies the unique differentiator. It differentiates the two based on functionality, scope, and purpose. IAM provides a framework of policies and technologies to confirm that the right users get appropriate access to identities. IGA tools support organizations by enforcing, reviewing, and auditing IAM policies. IGA authorizes us to define and implement IAM policies and associated functionalities to meet audit and compliance requirements.
Cybalt recommends that organizations build the IGA framework, on the identity foundation provided by IAM. This will not only enable the organizations to create a solid base and framework to grow but also resolve their identity and cybersecurity concerns.