Overview
Ransomware refers to a malware attack wherein the attacker encrypts the target's data or system, preventing access to the target's information until a ransom payment is made by the victim. The attackers use their social engineering skills, along with techniques like phishing, to secure access to the target system.
Ransomware groups have been creating chaos, damaging data, and spreading insecurity all across the world. Almost all sectors, ranging from finance to healthcare, are falling prey to the malware attack. As an upcoming trend, many educational institutions are also targeted by cyber attackers against ransom. Although educational institutions are not lucrative targets, they are easier targets as compared to other sectors.
These attacks are a global issue and are spreading like wildfire. The attacks are growing due to the absence of proper cybersecurity practices within educational institutions. Accordingly, the recovery time for these institutions is also observed to be much higher than other sectors. Moreover, the data encryption rate for educational institutions is found to be the highest among the other sectors facing the attacks.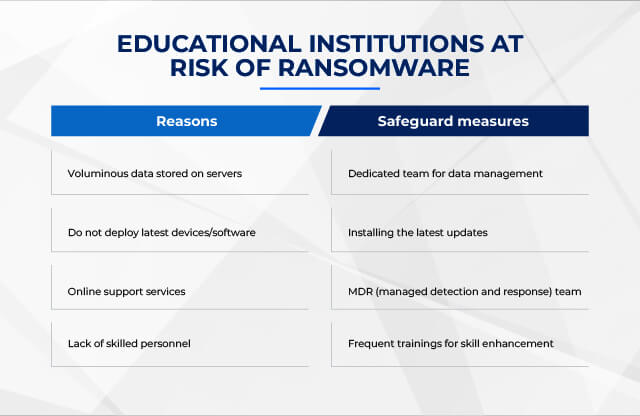 Educational institutions at risk of ransomware
When cyber attackers attack educational institutions, they gather information like financial data, medical records, student statistical data, and grades. During the COVID pandemic, there has been an increased use of online platforms, mobile devices, and cloud computing. These advancements have also given rise to increasing cyberattacks.
At Cybalt, the security experts believe that ransomware can be managed effectively if educational institutions are well prepared and are not only able to detect but also prevent these attacks. These institutions must also be able to perform faster remediation and recovery processes.
Educational institutions store voluminous amounts of students' personal information in the form of files stored on computer systems or servers. This information is not only vital but also sensitive from a security perspective. It is valuable for the institutions and, if not protected adequately, could pose a serious threat to these establishments.
Furthermore, the information can be easily misused for phishing and malware attacks, as these institutions do not essentially deploy the latest devices and/or software to manage the stored information. In most cases, institutions face financial limitations and avoid spending on essential equipment to prevent cyberattacks. It increases the chances of cyberattacks due to the absence of a secured networking system.
There is another reason for educational institutions to be an easier target. The attackers interrupt the support services, impacting the overall functionality of the institute. Also, these institutions would not like to disrupt their support services and would be willing to negotiate, avoiding disruption. Attackers are able to take advantage by creating disorder and disturbing the wide range of facilities extended to students (learning material), parents (their ward's status and associated details), and teachers (teaching material). It is like a complete shutdown of the institution.
Yet another reason for institutions to be vulnerable to cyberattacks is that these educational bodies can be easily negotiated for ransom against data breaches and cyber threats. The attackers can go a step further and misuse the data for ransom against the institute's staff and/or students.
The educational institutions are neither equipped nor skilled enough to detect the potential ransomware attack. These limitations further foster cyberattacks and encryption rates. These factors also compel the institutions to pay a heavy price for recovering the damaged data. It may also impact the institute financially, leading to bankruptcy.
The attackers can also ask for a ransom against the institute's sensitive information, like its mode of teaching, learning patterns across age groups, and achievement parameters. They can blackmail the institute into sharing this information with similar educational establishments.
Safeguarding from ransomware attacks
Unlike other enterprises, educational institutions collect more private information about their incoming and outgoing students, alumni, and staff members. A large database containing voluminous private information is a potential risk and a welcome signal for cyber attackers. These institutions are largely victimized due to security flaws and frequent data breaches due to weak cybersecurity procedures.
As ransomware attacks cannot be avoided, educational institutions will have to stay ahead and be proactive in using anti-ransomware programs. These programs will not only detect the cyber threat but also mitigate the risk before attackers encrypt valuable information.
The educational institutions must follow these recommendations to avoid ransomware attacks:
Installing the best cybersecurity setups to meet the institution's requirements.
Maintaining the hardware and software across the networks connecting the different departments of the institution. There should be a dedicated IT team to detect any malware attack. The team should also be skilled to resolve any security flaw, including unpatched hardware requirements, the latest service packs for software, unsecured personal computers (PCs), and verified remote desktop protocol (RDP).
Ensuring agreement with a managed detection and response (MDR) team to monitor the security technology 24/7 against cyberattacks before damage.
Planning for cybersecurity contingency plans (in the form of training) to enable institutions to manage cyber risk if the risk materializes.
Keeping the recovery and turn-around time (TAT) under a minimum range to reduce the data encryption time. The security team should be able to restore the data before it is damaged or lost.
As a safeguarding approach, educational institutions must implement threat detection and response, backup and recovery, and an incident response system. Although these measures can improve cybersecurity at educational institutions, it is necessary for the education sector to be aware of the significance of data security. In the coming years, ransomware attacks will advance to greater levels. The educational institutions must be prepared, equipped, and organized to handle these attacks.
Conclusion
Today's technology has enabled modern learning pathways in educational institutions, and students experience a new degree of innovation. Although technology has improved students' learning patterns, it has the potential to affect infrastructure through cyberattacks. Thus, the technology must be used cautiously, as it may pose hazards to privacy and safety. The same technology that is meant to enhance learning might make institutions vulnerable to data breaches and ransomware attacks if it is not strictly regulated.