Introduction
Artificial Intelligence (AI) is rapidly progressing and accomplishing tasks requiring human intelligence. The main objective of AI is to comprehend human behaviour and develop intelligent machines. These machines have the capability to identify patterns, resolve problems, and take informed decisions with minimal human interference.
Some applications and features of AI include machine learning, wherein AI and computer science converge (using data and algorithms) to emulate human ways of learning. It facilitates an optimized learning experience. The next discipline of AI is natural language processing (NLP). Here, AI uses thorough analysis and deep understanding to generate human language. Another discipline of AI is computer vision, which trains machines to view and recognize images and videos. Yet another discipline of AI is robotics. It creates machines to perform, execute, and replicate human actions.
Over the past few years, AI has seen tremendous growth in various sectors, including healthcare, finance, and retail. Undoubtedly, AI has been used in accomplishing various tasks. The magic of AI is often expected to do wonders without acknowledging the accompanying challenges. The AI experts assert that the magical effect will multiply, replacing humans to a great extent. Moreover, AI has shown that many tasks can be completed efficiently in less time and using fewer resources. But according to the current scenario, organizations cannot solely depend on AI and need human intervention.
The experts at Cybalt analyse whether the current AI hype is about to reach a dead end.
We at Cybalt believe that AI seems to have advanced exponentially, but it is not a one-stop solution for all the problems managed by humans. There are various tools like ChatGPT, Copilot X, and GitHub Copilot. These tools have definitely improved the efficiency of developers but have not replaced them. The tools serve as an aid to help programmers work efficiently. Moreover, you can't confide in the decisions of AI in highly critical domains like healthcare and finance, where accuracy is of utmost importance.
AI hype: Is it a dead end?
The researchers at Cybalt are of the opinion that AI is on a growing path to achieving greater milestones. AI is used in numerous applications, like medical diagnostics, autonomous transport modes, and predictive analytic systems. Gradually, the AI domain is capturing other business processes too. Although AI has the potential to transform industries, there are many associated challenges too.
The main challenge is to ensure that AI is used responsibly. Organizations need to ensure that AI is used judiciously and not for malicious activities. Moreover, AI algorithms must be flexible and must not acknowledge any bias or discrimination. The algorithm must be able to justify its functionality. And despite all the challenges, cybersecurity experts believe that AI will definitely rise to greater heights.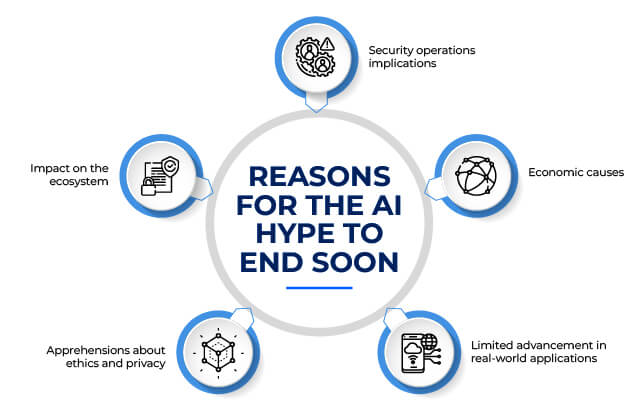 Reasons for the AI hype to end soon
Security operations implications
Economic causes
Limited advancement in real-world applications
Apprehensions about ethics and privacy
Impact on the ecosystem
Reasons for the AI hype to end soon
At Cybalt, the security experts believe that there are various reasons for the AI hype to hit a dead end soon. Some of the key causes are:
Security operations implications
The repercussions for security operations could be severe if the present wave of AI technologies proves to be a dead end. The security experts will need to continuously improve current strategies like zero-trust and cyber hygiene. To keep up with the ever-changing threat landscape, the experts will also need to continue producing and curating an efficient way to detect cyber threats to mitigate the cybersecurity risk.

In the absence of optimized machine automation, businesses will still have trouble finding cybersecurity skills. The manual effort for analysts will remain significant. Other methods of streamlining operations will have to be developed by organisations. It might so happen that the time to detect cyber threats will not reduce to a marginal extent. Eventually, threat intelligence management will remain a challenging proposition.

The value of human experience in cybersecurity operations will increase in relevance if AI falls short of expectations.

Economic causes
If AI technology does not generate the anticipated return-on-investment (ROI), the future economic scenario will be dreadful. An enormous impact would be felt on financing the efforts of AI research and development. Organizations investing in AI technology will have to think several times before investing loads of money if there is no guarantee of economic success or feasibility. Furthermore, these high research expenses, coupled with the lack of commercial applications, would not appeal to shareholders or investors. Additionally, it will lead to widespread capital destruction, resulting in an unproductive and unfeasible approach for cloud and hardware service providers.

Limited advancement in real-world applications
Organizations have observed a great progress with certain applications of AI, but artificial general intelligence (AGI) has not advanced much. Although AI automation is gaining popularity in the fields of design, development, and marketing, the application domain path is still not a broader one.

Undoubtedly, the potential for AI is enormous. However, the real-world applications might not live up to expectations due to problems with viability. Other reasons could be the absence of specific use cases and/or problems with the scalability of the cybersecurity solutions.

Apprehensions about ethics and privacy
There is a constant rise in concerns about privacy, ethics, and the possible exploitation of AI systems. Organizations are also demanding tougher laws, which could restrain AI innovation and usage, leading to a situation where AI is at a dead end. Generally, organizations assessments could be against AI if the AI systems reflect inconsistency and impractical decision-making.

Impact on the ecosystem
The performance of artificial intelligence (AI) is not only dependent on automation capabilities. It is also dependent on the affordability, accessibility, and sustainability of the AI solution. AI has the ability to boost energy efficiency, manage processes, and enhance sustainable systems. Although AI may sound technically feasible at all times, it may lead to insolvency and damage the ecosystem by depleting our natural resources.
How long is the current AI hype expected to last?
It is hard to predict as to how long the current AI boom will persist. Some experts envision that the trend will eventually fade as people become more accustomed to the technology and its associated limitations. There are others who think that because AI is still making substantial improvement, the euphoria will last for a while.
There are a few factors that could cause the enthusiasm around AI to subside. One of the factors is a global concern that users could begin losing faith in AI technology. It could happen when the users realize that AI is not as capable as they had probably imagined. The failure to create artificial general intelligence (AGI) is one example of a severe setback in AI research.
However, there are additional factors that can sustain the AI boom. One of the factors is whether AI is able to sustain advancements in industries like healthcare, manufacturing, and transportation. Another factor is the substantial advancement in AI research, which has created a new class of AI algorithms that are significantly more effective than their earlier counterparts.
It is not possible to predict the duration of advancement in the AI domain. Also, it is undeniable that AI is a tremendous technology with the potential to completely transform business processes. The enthusiasm for AI may begin to fade as people become more familiar with the technology and its limits. This may be the case if public perceptions about AI capabilities change or if there are significant failures in AI research. However, the buzz around AI may continue even if there are no big advancements.
Another reason for the AI hype to increase may be attributed to those who are becoming more enthusiastic about the promising AI technology. This might be the case if AI research makes a significant advancement, such as the creation of artificial general intelligence (AGI).
Organizations are not certain about what the future holds for AI. However, it is certain that AI is an impactful technology with great potential to revolutionize the world. It is very likely that the AI hype will continue as the technology continues to develop over time.
Conclusion
If the current AI hype is a dead end, the cybersecurity sector will continue to rely largely on conventional strategies, notably human-driven ones. Organizations are already experiencing the effects of the large language model (LLM). The experience could be a real-time conversion of human language searches into SQL syntax, accelerating a developer's coding speed, or a classification of network systems. The consequences will influence both the cyberattackers and the defenders.
Other than the limitations and restrictions imposed by AI technology, a wide range of other factors and trends may impact business processes. This impact is expected to be significant enough for organizations to experience the AI hype. AI might also present risks ranging from societal instability to self-driving killbots. These risks could prompt a governmental crackdown, blocking further development.
The AI hype could cause more harm than expected. It might lead to financial losses and an uncontrolled sequence of cyber threats. It can thereby put an unexpected end to promising AI technology.
Thus, it is impossible to say whether AI is a bubble, but it is a fact that AI technology is here to stay. It will continue to have a huge impact on businesses. Organizations will witness even more innovation and progress as AI develops and is more broadly embraced.